Guest article provided by: bargainstorage.com
Summer is the ideal time for great experiences in your RV and exploration on the open road. Whether you check out some of our great national parks, explored what your home state has to offer, or maybe you journey across the whole country, hopefully you get out and enjoy everything the RV lifestyle has to offer with your friends and family.
When the season ends, however, it will be time to park your recreational vehicle somewhere safe and covered to protect it during the winter months. Before you store it, though, there are some essential steps and tips to make sure it is properly prepared for the days it won't be in use. While it may seem like a lot to do just to put your RV in storage, it is well worth your time and will save yourself hassle next season when you're ready to hit the open road again. Follow these simple steps and we guarantee your RV will be properly winterized for storage:
First, take a few minutes to inspect the exterior. Seems simple enough but an inspection of the exterior will reveal and cracks or signs of wear on any of your RV's exterior seams and seals. While you're at it, it's a good idea to lubricate locks, hinges and other metal parts.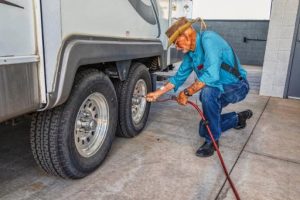 Next, check all your tires. Even though you won't be driving it, it is important to inflate your RV tires to the correct PSI. Manufacturers often recommend adding 25% more air during storage. It's a good idea to check your specific brand of tires for guidance. Their website should give you this information easily. They may even have tips for if you store your RV outside and what to do to protect the tires from extreme heat or cold.
No guide to storing your RV would not mention your battery. It's important to make sure all the batteries are fully charged, disconnected, and top off the water levels. The smallest drain on them can kill the battery while it is storage so don't forget to shut off the main breaker and unplug anything inside the RV that can be unplugged as a precaution.
Insects and rodents of all sizes would love to settle into your RV while you're not using it. Find and block all possible entries. Put a cover on larger openings, such as the exhaust pipe. Close and cover all vents, including those that are on the roof.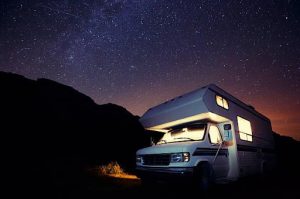 Next, look for ways critters can sneak inside by following wires and plumbing to where they exit your RV. You can also wait until dark, turn on the inside lights, and look for light that shines through underneath. Spray expanding foam into the smaller openings you find.  Remove all food, even if it's stored in boxes, then seal cracks you find in drawers and cupboards.
Your next step should be to focus your attention on the water tanks and draining them.  Forgetting to drain the water tanks is not a mistake you make twice – especially if it's the wastewater tank. Thankfully, it is easy to take care of this task at the campsite during your last trip of the season, a local approved dump station facility, or your friendly Carefree Covered RV Storage facility. You'll also want to make sure there's no water in the shower drain, toilet, and water heater while you are at it. Lastly, used compressed air to blow through the tanks and then add nontoxic antifreeze made specifically for RV tank storage.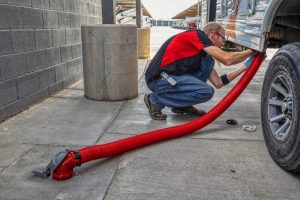 Once you've dealt with the water tanks, it's time to address the oil and checking other fluids. It might seem odd to you to change the oil before storing your RV, however, there is nothing worse than used oil that can corrode the engine bearings while in storage. We recommend you service your RV with an oil change as well as checking all the fluids – antifreeze, power steering fluid, brake fluid, even windshield fluid.  By checking these fluids and making sure they are all full, it will help keep these liquids from freezing or drying out during the months in storage. Lastly, we highly recommend filling the fuel tank while adding a fuel stabilizer according to manufacturer instructions.
Our last and final tip for you before storing your RV is to clean the interior. You will want to remove anything from the cupboards and drawers, not to mention the refrigerator, and freezer. Defrost and wipe down the freezer and leave the doors propped open so that it can dry out completely. Add a box of opened baking soda inside so that any remaining smell will be absorbed. Use soapy water, a sponge, and a mop to scrub down the inside of your RV. Wipe down the counters, launder the bedding and awnings, sweep and mop the floor, clean the bathroom.
Come Home to Carefree Covered RV Storage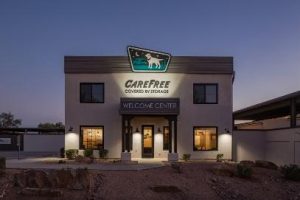 When you store your recreational vehicles with us, you'll enjoy secure, quality covered RV storage with our camera video surveillance, along with 365-day automated access with our phone gate app, charging outlets, free wifi, free self RV wash, sewer dump and even a dog park for our furry friends.
Also need a storage unit for other small recreational toys, equipment, and supplies? We've got them! We're always here for our customers at Carefree Covered RV Storage. Check out our facility video and then stop by; we'll get your rig set up.
At Carefree Covered RV Storage, you're guaranteed peace of mind, protection, and personalized, old-fashioned service. We make it easy for you to rent and make payments online, maintain your vehicle, and get on the road — so that you can keep living the carefree life.